Expansionist Foreign Policy of Bulgaria in the Context of the Nation-Stateization Process

Abstract views: 103 /

PDF downloads: 48
Keywords:
Foreign Policy, Bulgaria, Nation-State, Nationalism
Abstract
The relationship between nation-stateization processes and foreign policy in the Balkans gained importance after the rebellion movements. The Balkan states, which wanted to establish their own nation-states, followed an expansionist foreign policy within the framework of aid from both Europe and Russia during this time. While the new Balkan states, which tried to separate from the millet system of the Ottoman Empire with revolts, put these policies in the cultural and religious background, it is seen that the state and border imaginations clashed among themselves. In this study, we will examine the expansionist nation-state foreign policy of Bulgaria in the new Balkan order that emerged after the Ottoman-Russian war. In this research, an answer will be sought to the question "Which internal and external dynamics did Bulgaria take into action while following this foreign policy?'' It is seen that the religious and cultural motifs used by Bulgaria in the nation-stateization process are effective in the execution of foreign policy. Since the link between foreign policy and domestic policy in Bulgaria and other Balkan countries develops through nationalism, the concepts of border and ethnicity are always open to discussion. This study, which reveals that not only internal dynamics are involved in the background of the expansionist foreign policy followed by Bulgaria in the nation-stateization process, is important in terms of showing the effect of external factors.
References
Benedict Anderson, Benedict (2009) Imagined Communities Reflections on the Origins and Spread of Nationalism, (Hayali Cemaatler Milliyetçiliğin Kökenleri ve Yayılması), Çeviren: İskender Savaşır, Metis Yayınları, İstanbul.
Bojinov, B, Panayotov, L. (1978) Makedonya Sbornik ot Dokumenti i Materiali, Bılgarska Akademiya Na Naukite, 1978, Sofiya.
Castellan, Georges (1995) Balkanların Tarihi 14.-20. Yüzyıl, Milliyet Yayınları, Çeviren: Ayşegül Yaraman- Başbuğu, İstanbul.
Crampton, R. J. (2007) Bulgaristan Tarihi, Jeo Politika Yayınları, Çevirmen: Nuray Ekici, 2007, İstanbul.
D. Smith, Anthony (2010) National Identity (Milli Kimlik) Çeviren: Bahadır Sina Şener, İletişim Yayınları, İstanbul.
Dennis P. Hupchick, Dennis P. (2001) The Balkans, Palgrave Macmillan, New York.
Dieckhoff, Alain- Jaffrelot, Christophie (2010) Repenser le nationalisme (Théories et practiques), Milliyetçiliği Yeniden Düşünmek (Kuramlar ve Uygulamalar) Çeviren: Devrim Çetinkasap, İletişim Yayınları, İstanbul.
E.J. Hobsbawn, E.J. (2010) Milletler ve Milliyetçilik (Program, Mit, Gerçeklik), Ayrıntı Yayınları, Dördüncü Basım, İstanbul.
Gözübüyük, A. Şeref ve İkili, Suna (1982) Türk Anayasa Metinleri, Ankara Üniversitesi Siyasal Bilgiler Fakültesi Yayınları, No: 496, Ankara.
Hacısalihoğlu, Mehmet (2008) Jön Türklerin Balkan Politikası (1908-1913), Divan Dergisi.
Hayes, Charlton J.H. (2010) Miiliyetçilik: Bir Din (Batı Siyasal Düşüncesinde ''Ulusalcılık'' Tasavvuru), Çeviren: Murat Çiftkaya, İz Yayıncılık, İstanbul.
Hroch, Mirsolav (2011) Avrupa'da Milli Uyanış (Toplumsal Koşulların ve Toplulukların Karşılaştırılmalı Analizi, İletişim Yayınları, İstanbul.
Işık, Mustafa (2016) Balkanlar'dan Türkiye'ye Son Büyük Göç Olarak 1989 Göçüne Giden Süreç, Sakarya Üniversitesi Sosyal Bilimler Enstitüsü, Yayınlanmamış Yüksek Lisans Tezi, Sakarya.
Karpat, Kemal (2012) Balkanlar'da Osmanlı Mirası ve Milliyetçilik, Timaş Yayınları, İstanbul.
Karpat, Kemal (2010) Osmanlı'dan Günümüze Etnik Yapılanma ve Göçler, Timaş Yayınları, İstanbul.
Karpat, Kemal (2012) Kısa Türkiye Tarihi 1800-2012, Timaş Yay., İstanbul.
Saatçi, Meltem Begüm (2009) "Balkan Ulusçuluklarına Dair Bir Değerlendirme: Farklı Uluslar Farklı Usûller", Karadeniz Araştırmaları.
Spasov, Ludmil (2008) 100 Neşta, Koito Tryabva Da Znaem Za İstoriyata Na Bılgariya – 1878-1945, Svetovna Biblioteka EOOD, Sofiya.
Stanev, Nikol (1992) İstorya Na Hova Bılgariya 1878- 1941, İzdatelski Senter '' İv. Vazov'', Veliko Tırnova.
Şener, Bülent (2014) Küreselleşme Sürecinde Ulus-Devlet ve Egemenlik Olguları, Tarih Okulu Dergisi, Haziran.
Tanör, Bülent (1995) Osmanlı- Türk Anayasal Gelişmeleri (1789-1980), II. Baskı, Der Yayınları, İstanbul.
Taştan, Yahya Kemal (2013) Balkanlarda Ulusçuluk Hareketleri, (ed.) Bilgehan A. Gökdağ, Osman Karatay, Balkanlar El Kitabı, I. Cilt: Tarih, Akçağ Yayınları, Ankara.
Tuğlacı, Pars (1984) Bulgaristan ve Türkiye-Bulgaristan İlişkileri, Cem Yayınevi.
Tokay, Gül (1999) ''Ayastefanos'tan Berlin Andlaşmasına Doğu Sorunu'' Çağdaş Türk Diplomasisi: 200 Yıllık Süreç, Yayına Hazırlayan: İsmail Soysal, Türk Tarih Kurumu, Ankara.Yerasimos,
Stefanos (1994) Milliyetler ve Sınırlar: Balkanlar, Kafkasya ve Orta-Doğu, Çeviren: Şirin Tekeli, İletişim Yayınları, İstanbul, 1994, s. 87.
Bulgaristan, Kuzey Makedonya Cumhuriyeti'ne Karşı Tutumunu Bir Kez Daha Teyit Etti, https://bnt.bg/bulgaristan-kuzey-makedonya-cumhuriyeti-39ne-karşı-tutumunu-bir-kez-daha-teyit-etti-302219news.html (Erişim Tarihi: 20.05.2022)
VMRO (İç Makedon Devrimci Örgütü), http://www.vmro.bg/pages/за-нас/кои-сме-ние/ (Erişim Tarihi: 17.05.2022)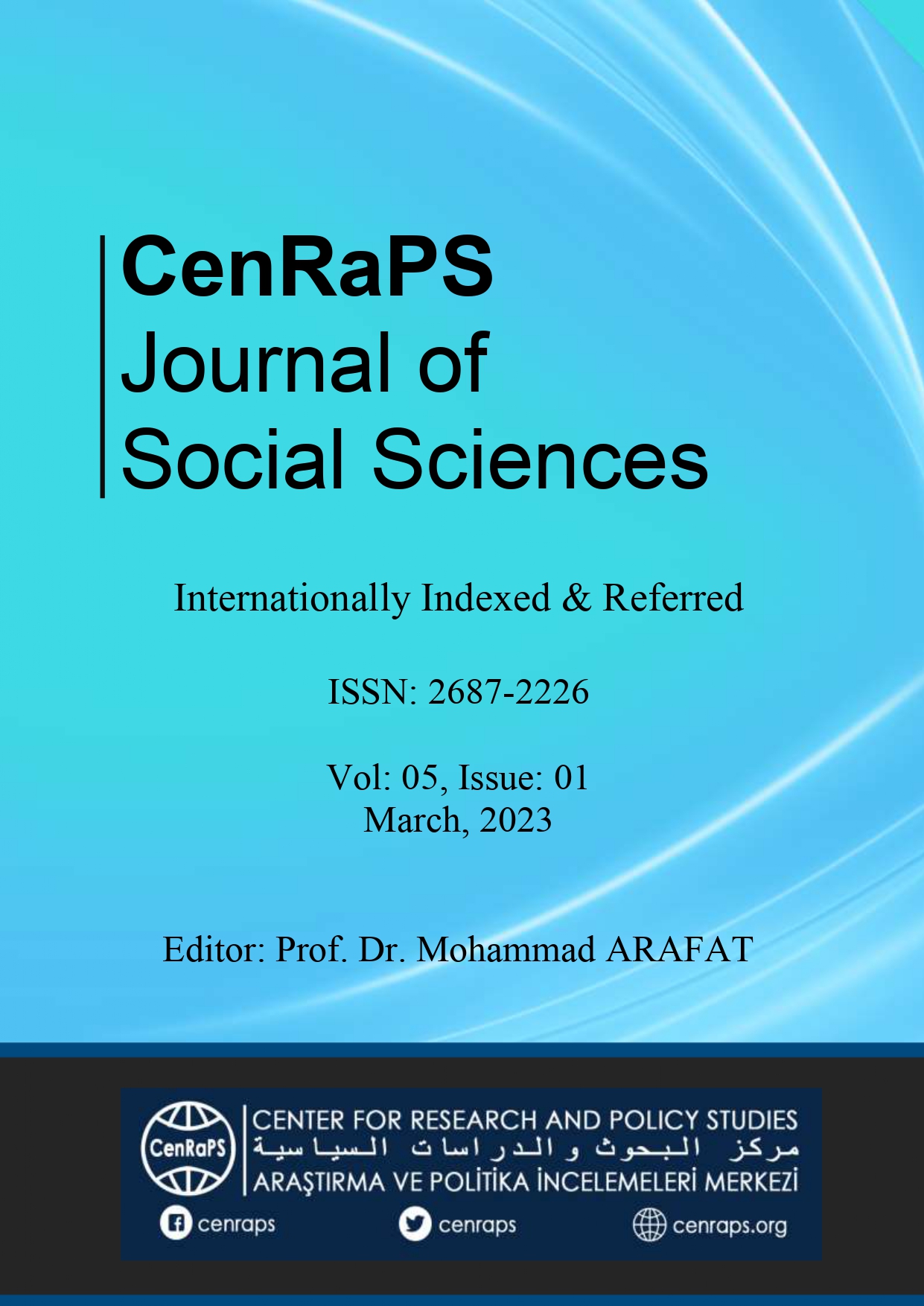 Downloads
How to Cite
IŞIK, M. (2023). Expansionist Foreign Policy of Bulgaria in the Context of the Nation-Stateization Process. CenRaPS Journal of Social Sciences, 5(1), 45–62. https://doi.org/10.46291/cenraps.v5i1.94
License
Copyright (c) 2023 CenRaPS Journal of Social Sciences
This work is licensed under a Creative Commons Attribution-NoDerivatives 4.0 International License.